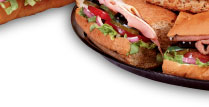 Giant Subs are prepared on custom-baked & braided bread, and require 24 hours advance notice to create just for you. A deposit may be required with your catering order.

Topping your Giant Sub there's sliced cheese, plus your choice of lettuce, tomatoes, pickles, green peppers, hot peppers, red onions and black olives. Bacon is also available upon request.

Tell us if you want condiments on the sandwiches or "on the side." An assortment of SUBWAY® Select Sauces, mayonnaise and mustard is supplied with each Giant Sub and Platter...and napkins of course!

Giant Subway subs start at three feet and increase by three feet. Each three foot section feeds approximately 10 - 12 guests.