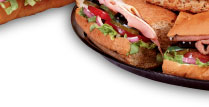 All SUBWAY® Sandwich Platters are prepared on a variety of freshly baked gourmet breads, with your choice of cold cuts - Ham, savory Turkey, Roast Beef, Subway Club, Spicy Italian and Veggie Delite®. Yes, your Cold Cut Combo and Italian B.M.T.® favorites are also available.

SUBWAY® vegetables on your Sandwich Platter include your selection of lettuce, tomatoes, cucumbers, pickles, green peppers, hot peppers, red onions and black olives.

A Subway Party platter feeds approximately 10 - 12 guests.